Welcome to the Premier Retroreflectometer Manufacturer, Mirolux Products, Inc.
See our Mirolux Ultra at the ATSSA show in San Antonio, Texas at International Cybernetics' booth, #874.
As a family owned business, we are dedicated to providing the highest quality retroreflectometers in the industry. Our pavement marking retroreflectometers are manufactured in the U.S.A. using the highest quality components.
Our current products include the Mirolux Ultra 15 retroreflectometer and the Mirolux Ultra 30 retroreflectometer. Both retroreflectometers are equipped with a printer, GPS, WiFi, wheels and high capacity battery.
Our retroreflectometers can be used to assess the quality of a newly striped section of road, test the efficiency of different application techniques, or assess the quality of existing striping to determine when re-striping is necessary. We also service our MP-30 retroreflectometer, MP-15 retroreflectometer and Mirolux 12 retroreflectometer.
Please contact us regarding rental and purchase of a pre-owned retroreflectometer. Pre-owned retroreflectometers are often available.

News Update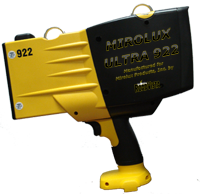 June 12, 2013
Mirolux is now shipping its new Ultra 922, a portable, cost effective and easy to use device designed to measure the retroreflectivity of any type of retroreflective material associated with traffic signs.