Sign Retroreflectometer - Ultra 922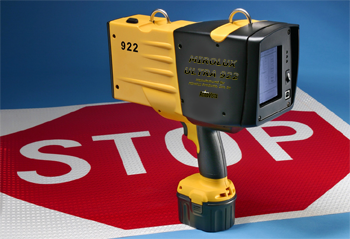 The Mirolux Ultra 922 is a portable, cost effective and easy to use device designed to measure the retroreflectivity of any type of retroreflective material associated with traffic signs and determine if minimum retroreflectivity requirements are being met as prescribed in the Manual on Uniform Traffic Control Devices (MUTCD).
The MUTCD defines the standards prescribed the Federal Highway Administration to install and maintain traffic control devices on all public streets, highways, bikeways, and private roads open to public traffic. The MUTCD is published by the Federal Highway Administration (FHWA) under 23 Code of Federal Regulations (CFR), Part 655, Subpart F.
The MUTCD, which has been administered by the FHWA since 1971, is a compilation of national standards for all traffic control devices, including road markings, highway signs, and traffic signals. It is updated periodically to accommodate the nation's changing transportation needs and address new safety technologies, traffic control tools and traffic management techniques.
MUTCD Sign Retroreflectivity Requirements
Sign Color
Additional Criteria
Sheeting Type (ASTM D4956-04)
Beaded Sheeting
Prismatic Sheeting
I
II
III
III, IV, V, VI, VII, VIII, IX, X
White on Green
Overhead
white not approved; green ≥7
white not approved; green ≥15
white not approved; green ≥25
white ≥250; green ≥25
Ground-mounted
white not approved; green ≥7
white ≥120; green ≥15
Black on Yellow or Black on Orange
For text and fine symbol signs measuring ≥1200mm (48 in) and all bold symbol signs
yellow/orange not approved
yellow ≥50; orange ≥50
For text and fine symbol signs measuring <1200mm (48 in)
yellow/orange not approved
yellow ≥75; orange ≥75
White on Red
Minimum sign contrast ratio ≥ 3:1 (white retroreflectivity / red retroreflectivity)
white ≥35; red ≥7
Black on White
-/-
white >=50
Technical Design Discussion
The Mirolux Ultra 922 uses the ASTM standard "annular" geometry, measuring observation angles of 0.2 and 0.5 degrees simultaneously, with an entrance angle of -4 degrees. This patented (US Patent# 7,961,328) design allows the user to determine how bright a particular traffic sign will be to both traditional and high profile vehicles. In addition, the annular geometry means you will not have to take an average of two measurements with prismatic-type materials, further simplifying the measurement process.
The sensitive light sensor in the Mirolux Ultra 922 meets ASTM E1709 and ASTM E2540 requirements with the CIE standard human eye response in conjunction with the CIE illuminant "A" lamp.
Accessories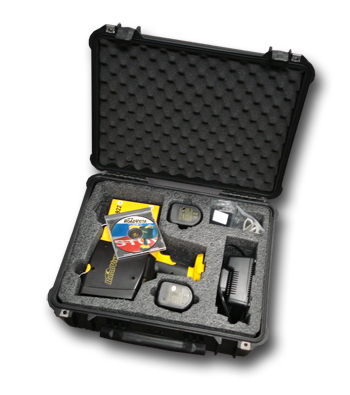 Every Mirolux Ultra 922 is shipped in a watertight, dust-proof Pelican carrying case with the following accessories:
Two standard 12V rechargeable batteries
Battery charger
Calibration plate
Two aperture reducers
Software
USB cable
Click on the case at the right to view all components.