Welcome to the original retroreflectometer manufacturer, Mirolux Products, Inc.
KEY PRODUCT UPDATES
4/2017: We are excited to announce significant changes to our product line:
A recent redesign results in a smaller and lighter retroreflectometer, allowing us to use a smaller im2950 Pelican carrying case.
We have consolidated our product line, now exclusively offering our full featured Mirolux Ultra 15 and Mirolux Ultra 30 models at significantly lower price points.
We have been able to reduce prices while continuing to offer WiFi, GPS, and printers in every retroreflectometer.
As a family owned business, we are dedicated to providing the highest quality retroreflectometers in the industry. Our pavement marking retroreflectometers are manufactured in the U.S.A. using domestically sourced components whenever possible.
Our current products include the Mirolux Ultra 15 and the Mirolux Ultra 30. Both retroreflectometers are equipped with a printer, GPS, WiFi, wheels and high capacity battery. We also have a supply of refurbished pre-owned Mirolux 12 instruments ready for immediate sale.
Our retroreflectometers can be used to assess the quality of a newly striped section of road, test the efficiency of different application techniques, or assess the quality of existing striping to determine when re-striping is necessary. We also service our prior MP-30, MP-15 and Mirolux 12 retroreflectometers.
Please contact us regarding rental and/or purchase of a pre-owned retroreflectometer.

News and Updates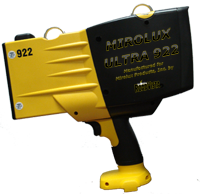 March 2017
Mirolux Products offers the Ultra 922 retroreflectometer, a portable, cost effective, and easy to use retroreflectometer designed to measure the retroreflectivity of any type of retroreflective material associated with traffic signs.